Gua Sha is an ancient pain-relieving soft-tissue scraping technique we use in our acupuncture clinic. It's similar to cupping except, we use semi-precious gems and crystals to gently scrape and massage tight, painful muscles. This treatment has the dual benefit of being an excellent detoxification technique as well as a fast working type of bodywork. Our premium quality gua sha stones and comfortable technique are incredible for eliminating stubborn knots and pain.
This scraping technique is a very functional way to massage and knead larger musculature, as it allows us to utilize a gem stone tool that puts fixed pressure on the muscle and it's associated dermatome in a precise location on the body. Most clinics use the back of a soup spoon or plastic tool to apply gua sha. Our tool box is filled with gems that have various healing properties and feel incredible on tight muscles.
Similar to cupping, this technique leaves purple marks. The more purple, the more your body needed care in that area. All totally worth it as it will improve range of motion and muscle performance while decreasing tension and pain. Gua sha is incredible and unbinding knots, loosening stuck shoulders and treating all kinds of muscle pain.
Getting the Gua Sha treatment
Gua sha stones are scraped on the tissue for approximately 10 minutes and the service is offered at Acupuncture Center Toronto as part of our regular 1 hour clinical acupuncture appointments at no extra cost.
Since gua sha doesn't take a full hour we don't offer it as a service on it's own.
Acupuncture is combined into all Gua sha appointments as both treatments compliment each other.
All therapists at Acupuncture Center Toronto are trained and very experienced at providing gua sha.
To book this treatment, select "Clinical Acupuncture – 60 Minutes". Let your therapist know you wish to try gua sha! We are happy to accommodate as long as it's safe for your body and health condition. Please note we cannot promise the application of gua sha before patients have come into the clinic for their initial consultation. In most cases it's safe.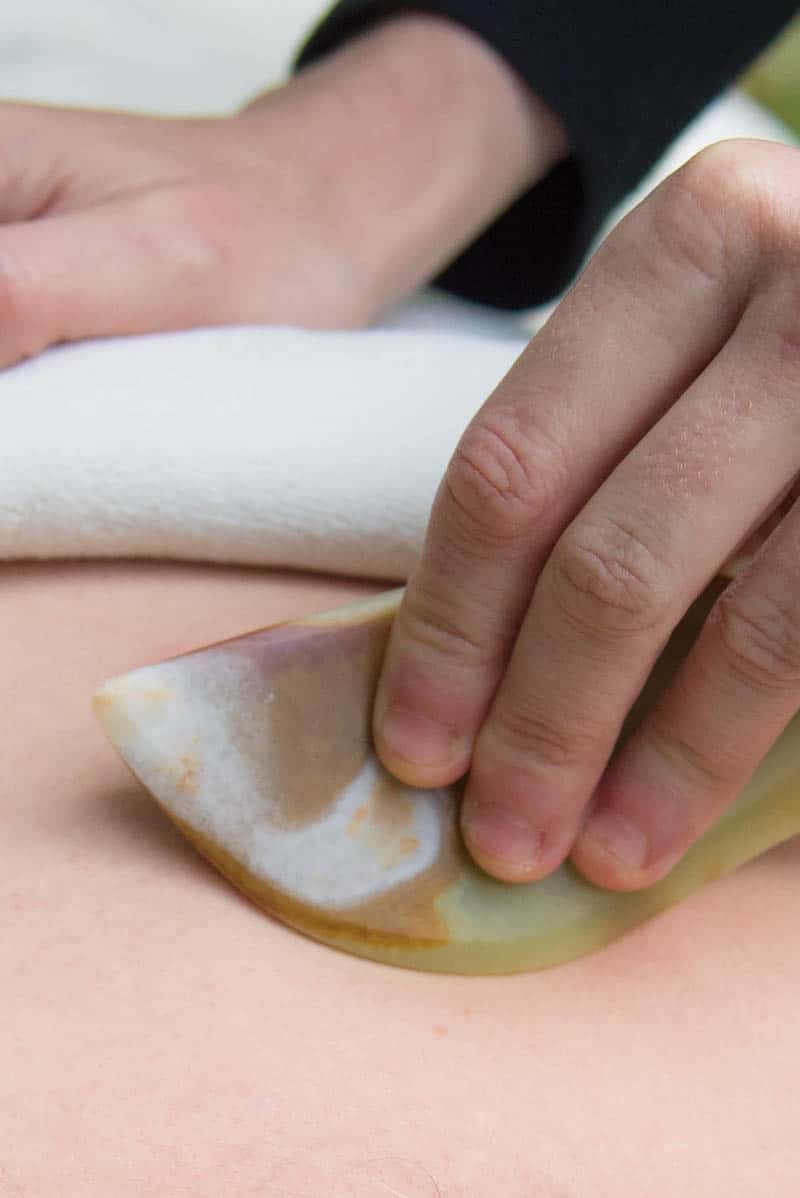 Gua sha relieves the following health conditions
Chronic neck pain
Low back pain
Forward head posture
Tension headaches, TMJ problems
Muscle tendonitis, tendinopathy, synovitis
Tendon conditions- Tennis elbow, golf elbow, carpal tunnel syndrome
Hip, knee and ankle pain from running, sports or athletic training
Tight IT band, Hamstring or quadriceps strain
Knee issues– patellofemoral syndrome, ACL and meniscus injuries
Post-surgical joint rehabilitation
Chronic repetitive ankle sprain, plantar fasciitis
Lung conditions including coughing, bronchitis and asthma
Injury and disease prevention
Organ detox
Overall physical and emotional well being
Running ailments – total care for the knee and IT band
This technique is great for Iliotibial band (IT) syndrome, aka "runner's knee". It relieves knee pressure on the lateral side of the knee where the IT band connects into the joint. This allows for less restricted movement and increased athletic performance. Think of this treatment as rejuvenating your knees from the beatings they take from running on Toronto pavement.
Heal neck and shoulder pain/stiffness
Got stiff shoulders? We can help! Our gua sha treatment is a swift and effective therapy to relieve stiff neck and shoulders. It works on frozen shoulders, "kinked" neck, and chronic shoulder injuries that just won't heal. Shoulder conditions including tension, knots and stiffness are often relieved with just one gua sha and acupuncture application. After treatment, patients often walk out of the treatment room feeling lighter and looser and can turn their head and neck in a way they couldn't before the treatment.
See what our service looks like in the video below. We are using gua sha treatment on a very common place of pain/tension on the upper shoulder.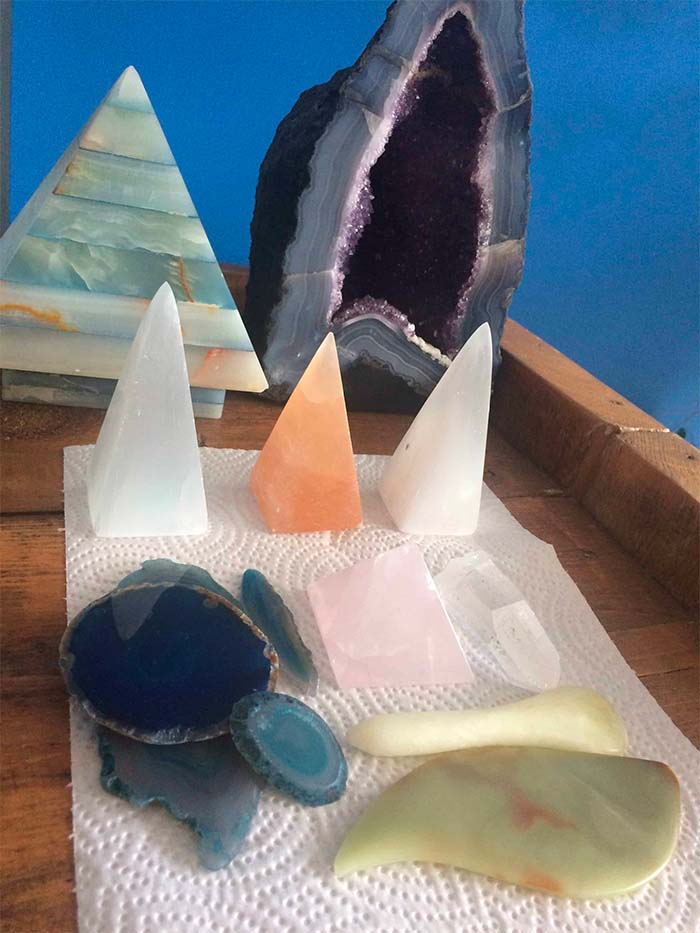 Acupuncture Center Toronto only applies the best soothing Gua Sha techniques
We prepare the treatment area by applying lotion on the skin.
A quality gem stone tool (rose quartz, jade or another crystal) is used knead tight muscle knots and adhesions in the fascia.
According to Chinese medicine, scraping relieves pain, increases blood flow and stimulates the body's immune response to promote the clearing of toxins and reduction of inflammation.
Gua Sha
Frequently Asked Questions