Facial Cupping/Facial Gua Sha Toronto
Facial cupping/facial gua sha is relaxing and effective for both clinical and cosmetic goals. This awesome facial rejuvenation techniques can be incorporated into any 1 hour cosmetic or clinical appointment at no extra cost. (Receipt will read "Acupuncture").
Facial Cupping/Gua Sha can be booked as an a la carte 45 minute appointment. A  la carte appointments, will not include Acupuncture. (Receipt will read Facial Cupping/Facial Gua Sha).
Unlike cupping on the body which leaves marks, facial cupping does not leave marks but instead promote fresh blood and circulation to the face. We only use the highest quality smooth glass cups (not plastic) and stone or crystal Gua Sha tools.
Our traditional Chinese facial rejuvenation techniques are targeted towards your chosen cosmetic goals or facial/scalp related health condition such as TMJ or sinus issues.
Enhance complexion and reduce acne.
Facial Cupping/Facial Gua Sha increases blood and lymph flow to your facial tissue using gentle suction (negative pressure) which improves the quality and tone of skin.
The treatment encourages collagen production, which restores the skins elasticity and texture. You will immediately notice a lovely warm flushed feeling to the face. Facial cupping can achieve many aesthetic and clinical goals.
Following Facial Cupping/Facial Gua Sha treatments at our downtown Toronto clinic, expect your skin to be looking fresh, relaxed and healthy. Giving you that fresh from vacation glow!
We can use the techniques to target most issues related to the face scalp and neck.
Health benefits of Facial Cupping/Facial Gua Sha
Stimulates blood flow in the skin
Improves facial lymphatic drainage – ridding tissues of waste & toxins!
Reduces sinus pressure and congestion
Helps to relax tight jaw muscles
Relieves tension headaches
Reduces sinus pressure
Reduces stress by encouraging rest and relation in the central nervous system.
Health conditions relieved by Facial Cupping/Facial Gua Sha
TMJ and lockjaw
Bell's Palsy
Facial neuralgia and facial paralysis
Dental pain/recovery from dental procedures
Neck pain and tension
Headaches/migraines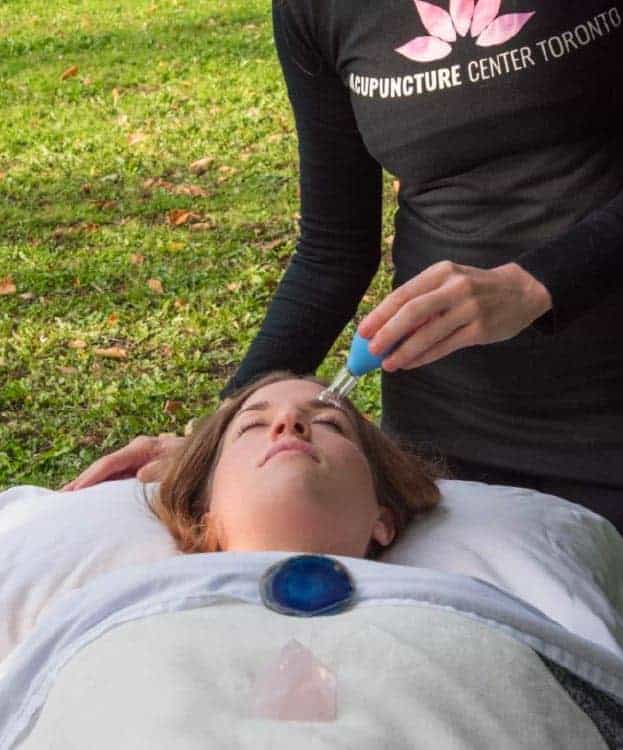 Facial Cupping or Facial Gua Sha as part of any 1 hour session or book a la carte
Our facial cupping or facial gua sha sessions can be added (if advised by your therapist) at no extra charge to most cosmetic acupuncture appointments.
Like all of our other value add-on services, there is no extra charge for the service in 1 hour appointments. Facial cupping/facial Gua Sha is only applied when recommended and deemed safe for you by your therapist. We can only apply either Facial Cupping OR Facial Gua Sha within each appointment. Let us use our expertise to curate the best treatment for your body.
Facial Cupping/Facial Gua Sha Frequently Asked Questions
Yes! You can add facial cupping or gua sha facial to any clinical acunpuncture OR cosmetic acupuncture 1 hour appointment at NO additional charge!! This is a unique value service is not available at most acupuncture clinics. Please keep in mind that not all 1 hour appointments (by default) include this service. To prevent tissue damage/bruising, you will receive either Facial Cupping OR Facial Gua Sha.
The ultimate decision is left up to the discretion of your therapist and have the final say because we value your health and will only proceed if it is safe to do so.
If your facial cupping appointment is for a health issue and not cosmetic related, we advise you to book a 1 hour clinical acupuncture session so we have the time to include acupuncture for it's deeper healing benefits. You are still welcome to book a 45 minute first time appointment should you decide not to have acupuncture.
No, our a la cart 45 minute Facial Cupping/Gua Sha appointments do not include Acupuncture and are not billed as such.
If you wish to have receive acupuncture and have your receipt reflect this, included, please book either a 1 hour cosmetic acupuncture appointment OR a 1 hour clinical acupuncture appointment and we can include Facial Cupping/Gua Sha.
No. You will need to wait at least 8 weeks until we can administer the treatment. Both Facial Cupping/Facial Gua Sha will interfere with your recent procedure. For other non-cosmetic recent facial surgeries (such as dental work etc.), please contact us prior to booking.
Policies regarding Facial Cupping & facial Gua Sha
Please note your first appointment will include a 10 minute or so consultation.

Remove all make-up prior to your visit. Ask your therapist if you require a make-up wipe.

Please be on time, especially for the shorter 45 minute a la carte appointments.  We are a busy clinic with consecutive appointments. We pride ourselves at being punctual for our patients. We are unable to extend your visit if you are late.

We cannot and will not lie or provide false information on receipts. If your appointment did not include Acupuncture, it will not be stated on the receipt. We are professionally obligated to provide accurate and transparent receipts. We protect our professional designations and wouldn't want you to get in trouble either! Our clinic is fully compliant with all governing bodies including the CTCMPAO, Insurance companies and the CRA.